AGRICULTURE
Saving pelagic fish stock: Government moves to ban new fishing canoes
The Ministry of Fisheries and Aquaculture Development is expected to issue a three-year moratorium on the introduction of new fishing canoes in Ghana's marine waters in the next few weeks.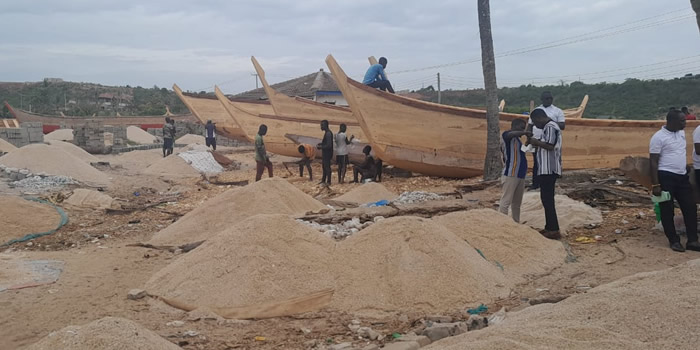 ---
Date Created : 5/12/2023 12:00:00 AM : Story Author : Prince Acquah/Ghanadistricts.com
---
The ban seeks to mitigate the overfishing, which had led to the near collapse of the country's pelagic fish stock as cautioned by industry players.
During that period, any new boat caught on the sea would be considered as engaging in illegal fishing and would, therefore, be arrested and prosecuted.
Mr. Joseph Yeboah, the Western Regional Director of the Fisheries Commission, in an interview said co-management committees were being formed along the landing beaches in every coastal region to help enforce the ban.
Ghana's pelagic fish stock, including anchovies and herrings, had plummeted dramatically over the last couple of decades and risks total collapse due to the unrestrained bad fishing practices such as overfishing and the use of unapproved nets.
The country is, thus, undertaking a range of recovery actions including the fishing closed season and the ban on new canoes in line with the Marine Fisheries Management Plan (2022-2026) of the Fisheries Commission.
The Ministry's 2022 canoe census recorded over 4,000 more canoes than the recommended 9,000 to 9,800 required for sustainable fishing in Ghana.
More than 12,275 have currently been registered.
The moratorium was originally scheduled to commence in March this year but was postponed to allow for further engagements with stakeholders and proper structures to be instituted.
The Ministry was planning to make it coincide with the fishing closed season
Mr. Yeboah noted that the Ministry, the Fisheries Commission and their partners had met with all stakeholders including fishers, canoe owners, and canoe builders on the matter and they had responded positively.
However, they raised some concerns about the risk of unemployment and increased hardships, but he assured them that the Ghana Fisheries Recovery Programme would help to provide alternative livelihoods and other opportunities for the affected persons.
"Right now, we are waiting for the Minister to give the directive and the moratorium will come into force," he said.
"Government is expected to hold a final engagement with stakeholders soon before the big announcement."
Ahead of the directive however, the government had given fishers and canoe owners the leeway to register new canoes until the policy implementation starts, in spite of the already existing huge numbers.
Due to that window, fisher folks across the country are racing to make new canoes, a situation which could potentially defeat the moratorium policy.
From January to the end of April, the Fisheries Commission registered 313 new canoes with more coming in, Mr. Yeboah said.
Asked if the ban on new canoes would not worsen Ghana's huge fish deficit, he said it may rather increase the catch made.
"In the course of the ban, we will be engaging stakeholders frequently to assess the success or otherwise of the policy to take a decision on whether to extend or repeal it."