SOCIAL
Increase District Assembly Common Fund to five percent - PWDs urge government
The Ghana Federation of Disability Organisation (GFD) has appealed to the Ministry of Local Government, Decentralisation and Rural Development (MLGRD) among other stakeholders, to increase the three percent Disability Fund (DF) to at least five per cent.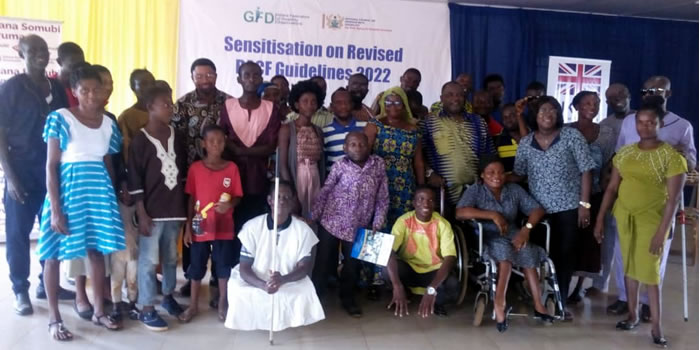 ---
Date Created : 3/8/2023 12:00:00 AM : Story Author : Akwasi Adu/ Ghanadistricts.com
---
Through the District Assembly Common Fund (DACF), the disability fund was disbursed quarterly to Persons with Disabilities (PWDs) across the country by the Department of Social Welfare (DSW), as an economic empowerment intervention.
Mr. Matthew Annor Kodom, the National President, Ghana Society of the Physically Disabled (GSPD), made the disclosure in an interview with Journalists, on the current living condition of PWDS in the country at Goaso, the Ahafo Regional capital.
He noted that "with the increment of the three per cent stipulated fund, the number of beneficiaries on the quarterly disbursement will double. Others have waited for over a year to reach their turn".
He stated that identified categories of PWDs in the country included persons with physical disabilities, speech and hearing impairment, psychosocial disabilities, cerebral palsy, bipolar conditions, attention deficit and other mental disorders.
Others were persons with hunchback, leprosy, albinism, epilepsy, intellectual disabilities, autism, height and stature disadvantaged, spinal injuries and burns survivors among other stigmatized medical conditions including Down syndrome and neurological disabilities.
The National President appealed to individuals, institutions and other stakeholders both local and abroad, to contribute their quota to the development of PWDs in the country saying, "our doors are always open".
Mr Kodom thanked the Ministry of Gender, Children and Social Protection (GCSP) and the MLGRD, GFD, all the disability groups in the country among other stakeholders for supporting the exercise.
The Ahafo Regional Chairperson of GFD, Felicia Serwaa, in her remarks, said though the stigma attached to disability in the area has reduced the federation and stakeholders would continue to intensify community education to end it.
Mrs Serwaa appealed for wheelchairs, white canes, blind - friendly mobile phones and spectacles among other movement aids from individuals and institutions to PWDs in the enclave stressing, "We need a lot of support".