SOCIAL
NSAWAM: Veep Commissions Nano Foods Pineapple Processing Factory
The Vice President of Ghana, Dr. Mahamudu Bawumia has commissioned a new 1 million dollar Nano pineapple foods processing factory at Nsawam Adoagyiri in the Eastern Region.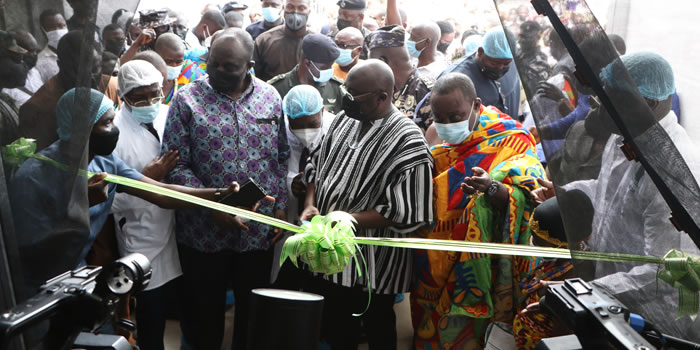 ---
Date Created : 5/21/2021 12:00:00 AM : Story Author : Ghanadstricts.com
---
Addressing the gathering, Dr. Bawumia said, it was a dreams come true since the project falls part of the One District One Factory initiative, and adds to the number of the successfully completed projects under 1D1F.
He continued that, 1D1F projects are a major component of the 10 pillars of the industrial transformation agenda of the government of Nana Akufo Addo that was implemented since 2017.
"We look back in history and we realized that one of the keys to economic development, sustainable development and job creation for our youth is industrialization".
He chastised that, since first Ghana's first President Dr. Kwame Nkrumah's government, there is no government in this country with clear industrialization vision and strategy compared to Nana Addo's administration, adding that, there has been closure of factories under previous governments but the case is different under Nana Akufo Addo government.
He further stated that, government had as of May 2021 initiated steps to set up 232 projects under 1D1F initiative of which these factories are either completed or at various stages of complementation.
Out of these, 77 are operating whilst 107 projects are still under construction as well as other 48 new projects which have begun.
The MP for Nsawam Adoagyiri Constituency who doubles as the Majority Chief Whip, Mr. Frank Annor Dompreh on his part indicated that, his intention to bring back the then Astec Company, now Nano foods limited to the municipality was to complement of helping to create employment opportunities for the teaming unemployed youth but not to collapsed the Blue Skies Company as speculated by many.
The Minister for Trade and Industry, Mr. Alan Kyeremanteng also commended the Managing Director for Nano Foods Ltd Mr. Albert Anti Owusu for reviving the factory when the factory was on the verge of collapsing.
Mr. Kyeremanteng highlighted the numerous strategic objectives for introducing 1D1F for the Nation under Prez Akufo Addo's administration.
He added that, the gov't wants to decentralize industrial development to this country and to bring industry to the doorsteps of every average Ghanaian.
He again said 1D1F is making sure we bring factory to every district in our country.