EDUCATION
MCE of Jaman South donates to brilliant but needy pupils
The Jaman South Municipal Chief Executive, Mr Andrews Bediako has made a donation of school uniforms to brilliant but needy basic school children in the Municipality.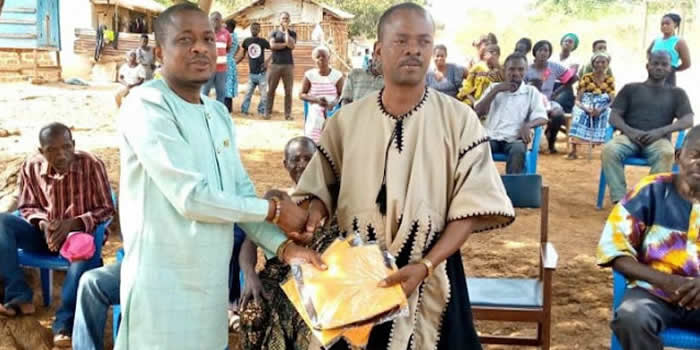 ---
Date Created : 1/17/2022 12:00:00 AM : Story Author : Odiahenkan Asuo/Ghanadistricts.com
---
The donation forms part of his visitation tour after the Christmas break to some 20 communities in the Municipality.
In attendance were the heads of the various departments in the municipal assembly, staff from the Education office and some party representatives joined the MCE ingles tour.
Some of the beneficiaries who received the items expressed much appreciation to the MCE and his entourage for such a presentation.
Other pressing issues in the communities visited were summoned before him for redress and support including; Lack of classroom blocks, furniture and teachers bungalow, boreholes, lack of health facilities, bad roads network, toilets, electricity extension and Street lights as well as school feeding programme for the school children and many more in the area.
The MCE responding to the issue raised first of all talked about peace which he urged the people to promote peace within the Municipality.
He also encouraged them to pay their taxes and admonished all cashew buyers in his municipality to register with the cashew buyers and exporters association in Ghana to enable their smooth businesses so that they will not cheat the farmers to generate more income to help solve the problems of the people in the cashew value chain business.
The MCE assured the people that some of their problems talked about are on the pipeline especially on the construction of boreholes and the reshaping of roads.