SOCIAL
Ayawaso West MCE disburses funds to 17 PWD beneficiaries
The Municipal Chief Executive, Madam Sandra Owusu-Ahinkorah through the Municipal Social Welfare and Community Development Department has presented an amount of ? 43,200.00 to persons with disability in the Municipality.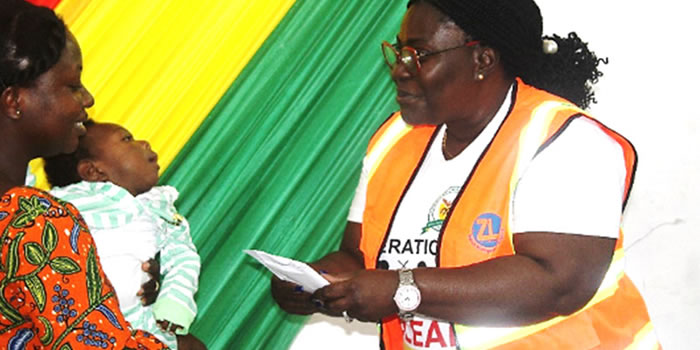 ---
Date Created : 7/19/2022 12:00:00 AM : Story Author : Ayawaso West ISD
---
The financial support was to ease their educational needs, medical bills and to enhance their businesses.
In all, 17 beneficiaries including 14 males and 3 females with urgent need of financial support were presented.
Addressing the event, Madam Sandra Owusu-Ahinkorah said that the objective of government and its stakeholders is to have persons with disabilities empowered, to fully and equally participate in the country's development.
She added that these initiatives are critical in ensuring inclusion and equal participation of persons with disabilities in all spheres of our society as this is essential for Ghana's strides toward achieving Sustainable Development Goal 10 which seeks to reduce inequality within and among countries by empowering and promoting the social, economic and political inclusion of all, including persons with disabilities.
She further indicated that despite the economic issues facing the country as a result of the Covid-19 pandemic, the Russia- Ukraine war, and the global economic crises, the government still deemed it necessary to make funds available to help address their plight.
The MCE admonishes the beneficiaries to put whatever they receive to good use effectively and to stand the chance and opportunity of benefiting again.
She re-echoed her appeal to persons with disabilities who go onto the street to beg that, it is against the law and they must refrain from such acts.
She concluded by thanking all the parents and caregivers of children with disabilities and special needs who work very hard in caring for them to bring the best out of them. She also encouraged them to continue to give their best to enhance their lives to contribute to national development.
On behalf of the beneficiaries, Mr. Joshua Addy, the representative of the National Council of Disabilities professed his gratitude to the MCE and the management of the Assembly for their continual support for persons with disability and assured that they will use the money judiciously.