GENERAL
Streetlight project for the Zanlerigu-Zoorin community
Mr. Jacob Zurobire Soung, the Deputy Director of the Judicial Training Institute, responsible for training Judges and Judicial staff in the Northern Sector, has commissioned a streetlight project for Zanlerigu-zoorin in the Nabdam District.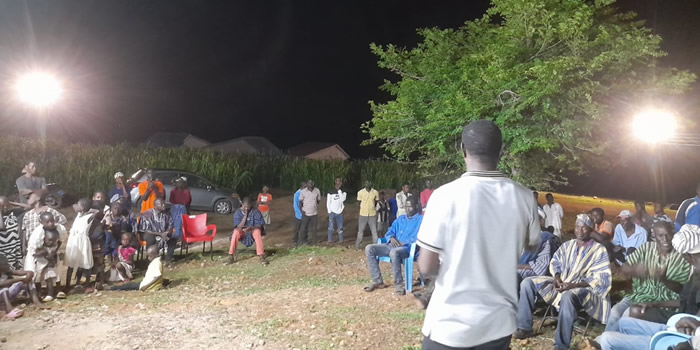 ---
Date Created : 7/24/2023 12:00:00 AM : Story Author : Gilbert Azeem Tiroog/Ghanadistricts.com
---
The light is to improve visibility at night in the small community, surrounded by hills, which is always in the dark despite the fact that it is connected to the National grid.


At the ceremony held in the community, Mr. Soung, who is also a legal consultant, noted that the gesture was aimed at enhancing security in the area and creating an avenue for social gatherings at night to discuss development issues.

He said the ceremony was meant to inform the residents and encourage them to own it as their property, and protect it from being destroyed, for their own benefit.


Mr. Soung said though there were other projects in the pipeline, his gesture could also encourage others to support the community in their own small ways.


The ten streetlights project was estimated to cost GHC6, 200.


Mr. Maxwell Divom, the Assemblyman of the Zanlerigu-Dagliga Electoral Area, expressed his gratitude to Mr. Soung for contributing to the development of the community.


He said the gesture could also motivate children in the community who could not hide their joy on seeing their community light up, to learn hard and attain high status and contribute their quota.


Mr. Yidan Sampana, the custodian of the land, thanked the lawyer for his support and assured him of the community's willingness to protect the project.