SECURITY
CJ visits New Juaben South for the reconstruction of Koforidua Circuit Court
The Koforidua Circuit Court in the New Juaben South Municipality is to be reconstructed to make it more conducive and responsive to the current needs of society.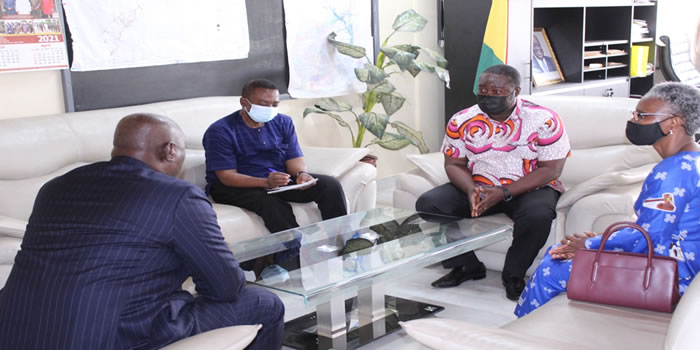 ---
Date Created : 3/19/2021 12:00:00 AM : Story Author : Collins Aikins Akuffo/Ghanadistricts.com
---
The Chief Justice, His Lordship Kwasi Anin Yeboah in the company of some lawyers from the Koforidua High Court visited the Municipal Chief Executive, Isaac Appaw-Gyasi to discuss the state of the Court and the way forward.
The CJ, Justice Anin Yeboah noted that the state of the Koforidua Circuit Court (popularly known as Mangoase Court) has gone beyond repairs.
He said the court building in its current state not only develops cracks but also the roof leaks badly making the place unsafe for workers. It also lacks parking space, hence the need for a modern circuit court to be built in order to befit its Municipal status.
This, he noted has been considered for many years, and now measures have been put in place for its rehabilitation.
"I want the Assembly to as a matter of urgency eject all squatters on the said premises to move out with immediate effect, so as to enable the Assembly to demolish the old project" he directed.
The Municipal Chief Executive, Isaac Appaw-Gyasi briefing the media after his discussion with the Chief Justice reiterated the need to eject all the people who have encroached the land; but assured that the affected individuals would be given some grace period to vacate from the place for demolishing and construction to begin at the premises.
He further expressed his gratitude towards the visit of the Chief Justice and the team for the kind edifice and vowed to make sure that the project will be completed at its stipulated time.
"Indeed, this is good news for the chiefs and people of New Juaben South for the government's commitment to secure funding for the reconstruction of the circuit of Koforidua circuit court.
Synergy Impex Limited had been charged to begin this project in the Middle of April 2021, and complete it in 10 months' time. I'm sure that this project when completed will go a long way to benefit the future generations and serve its intended purpose" he noted.
The project when completed will enhance the beauty of the Municipality and would pave way for more developments.