HEALTH
Volta NHIA donates blood to Ho Teaching Hospital to mark 20th anniversary
The Volta Regional Office of the National Health Insurance Authority (NHIA) has organised a blood donation exercise to support the Ho Teaching Hospital (HTH).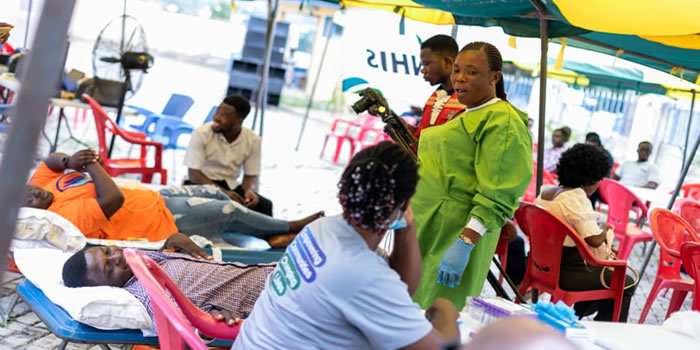 ---
Date Created : 11/21/2023 12:00:00 AM : Story Author : Caleb Kuleke/Ghanadistricts.com
---
The exercise, involving the staff of the Authority, was also opened to the public to donate blood to the health facility. Mr Emmanuel Avinu, Operations Manager of the Authority, speaking to the Ghana News Agency on behalf of the Regional Director, Mr Joseph Homenya, said, the exercise formed part of activities marking the Authority's 20th anniversary.
He said blood was a crucial product in everyone's life, especially in times of difficulties, therefore, the Management of the Authority decided to use the anniversary to contribute to the blood bank.
Mr Avinu said the objective was to ensure that the facility had enough blood available because "without blood at the bank, life could be lost, so the aim is to solve a future problem."
The Operations Manager disclosed that there were plans to continue the exercise to support other health facilities to save lives. Mr Avinu commended the public for their participation and encouraged them to continue to support health facilities with blood to avoid shortage of the commodity.
He said the Authority had brought on board a lot of innovations including the biometric system and My NHIS App, and the innovations had made the scheme more effective.
The Operations Manager urged the public to have confidence in the Scheme and take advantage of it to remain healthy and productive.