SECURITY
N JUABEN S: 2020 police recruits pass-out
A passing-out ceremony for the fifth batch of one hundred and thirteen (113) general recruits was held on Wednesday, 30th September 2020 at Jubilee Park, Koforidua in the New Juaben South Municipality.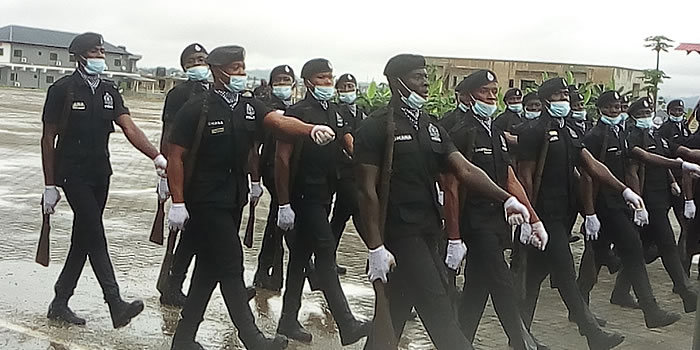 ---
Date Created : 10/2/2020 4:08:38 AM : Story Author : Collins Aikins Akuffo/Ghanadistricts.com
---
COP. Mr. Christian Tetteh Yohuno, the reviewing officer presiding over the passing out parade expressed delight about the recruitment as they commence their professional career in pursuit of service to humanity and their beloved country.
On behalf of the police administration, he expressed profound gratitude to the president, his excellency Nana Addo Dankwa Akuffo-Addo and the Vice president, his excellence Dr. Alhaji Mahamudu Bawumia for the exceptional commitment government has made towards recruitment and training of personnel's of the service. He stated further that, the five police training schools in Accra, Kumasi, Koforidua, Ho, and Pwalugu has been busy since 2018. This is the 5th batch of recruit intake since the government gave clearance for Eight Thousand (8,000) young men and women to be recruited into the service.
He said to the recruit, "I want you to get this. The Police system works like the money counting machine, it accepts, counts, and maintains you. If you are only genuine money. However, if you are counterfeit the system will reject you and cast you off. The police system will expose you if you allow personal feelings, animosity or friendship, and political affiliations to influence your official conduct. The system rejects you if you dare to desire for instant gratification".
He said "you are welcome to join a service which promotes and maintain group cohesion and provide equal opportunities for one to realized his or her potentials"